Ingredients for 1 sandwich
Preparation Time: 10 minutes
THE DELICIUS PRODUCT
Mackerel Fillets in Olive Oil 125g.
The excellent qualities of Delicius mackerel fillets and all their content of precious nutrients, safely and easily packed in our signature box that has become one of the brand's symbols over time. The must-have ingredient for a perfect salad.
The superior quality of Delicius products does not stop at anchovies. Discover the mackerel fillets and enjoy the taste of healthy and delicate fish.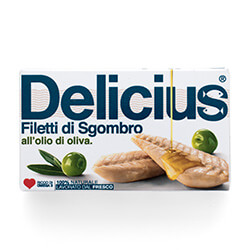 INGREDIENTS FOR 1 PERSON
1 pack of Mackerel fillets in olive oil
4 red cherry tomatoes
100 g of ham
1 courgette
Mayonnaise
1 loaf of bread
PREPARATION
Take the bread, cut it in half and toast it in a pan. In the meantime, cut the courgette and grill it on both sides, then take the mayonnaise and spread it on the base of the sandwich. Then cut the tomatoes in halves, salt them and place them over the mayonnaise, add a couple slices of ham, the grilled courgette and finish with the (drained) mackerel fillet in olive oil. Close the sandwich and taste it!