THE DELICIUS PRODUCT
Shrimps in Brine 100g
From the clean, cold and rich in fish seas of the North come the exquisite Delicius shrimps in brine. They belong to the tasty Pandalus Borealis species.
Always ready to use for appealing appetizers, tasty canapés and really special salads.
The quality of the Delicius shrimps is clearly visible through the glass jar, a jar with such a rigorous and Scandinavian design that the best table cloth to suit it would definitely be a Marimekko.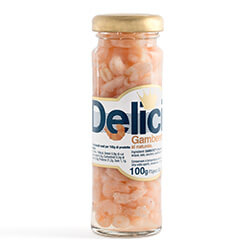 INGREDIENTS FOR 4 PEOPLE
Delicius shrimps in brine
150g of Castelluccio lentils
1 Williams pear
1 carrot
1 garlic clove
1 spring of rosemary
Extra virgin olive oil
Salt
Pepper
1 lemon
PREPARATION
Cook 150g of Castelluccio lentils in 1 litre of water with a carrot cut in pieces, 1 garlic clove and a spring of rosemary. Cook for 30 minutes. When the lentils are soft, remove the rosemary, salt them and let them rest for 10 minutes. Blend them with a cooking blender and create a cream.
Cut a Williams pear in small pieces, make it sauté in a pan with 1 tablespoon of olive oil and a little salt and pepper.
Drain 1 jar of Delicius shrimps in brine and season them with a couple lemon drops. Add them to the pear in the pan and remove them from the fire after 30 seconds.
Serve the lentil cream hot with a top garnish of shrimps and pear, and a drizzle of olive oil.