Ingredients for 1 person
Preparation time: 15 minutes
THE DELICIUS PRODUCT
Mackerel Fillets in Olive Oil 125g
The excellent quality of Delicius mackerel fillets and all their content of precious nutrients, safely and easily packed in our signature box that has become one of the brand's symbols over time. The must-have ingredient for a perfect salad.
The superior quality of Delicius products does not stop at anchovies. Discover the mackerel fillets and enjoy the taste of healthy and delicate fish.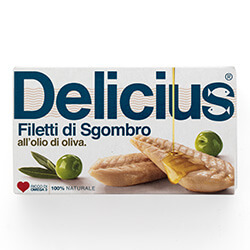 INGREDIENTS FOR 1 PERSON
1 pack of tinned Delicius mackerel fillets in olive oil
Radicchio salad
1 apple cut in small thin slices
Toasted nuts
Raisins
Vinaigrette with chives
PREPARATION
Marinate the mackerel fillets for about 10 minutes in a vinaigrette made with olive oil and chives.
Then add them to the radicchio salad with the thinly cut apple, the raisins and the nuts. Mix the ingredients together and adjust with olive oil, salt and apple vinegar.
This salad is a pleasant balance of fruits and vegetables, delicately combined with the taste of the mackerel fillets and the crunchiness of the nuts.
A fresh salad, full of antioxidants due to the high presence of precious nutrients.