Ingredients for 4 people
Preparation time: 15 minutes
the delicius product
Rolled Anchovy Fillets in Olive Oil DOUBLE 90g. Take two Delicius anchovy fillets, the ones that are really the best. Roll them up together and you will discover DOUBLE, the new anchovy twice the size, and twice the taste. In the classic glass jar they really seem huge, and they are. Hugely marvelous.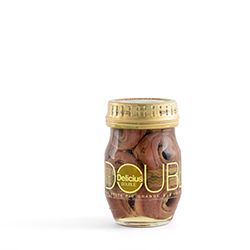 INGREDIENTs for 4 people
1 jar of Delicius Double anchovy fillets in olive oil
320 g of thin spaghetti
60 g of butter
1 fresh mint bundle
2 garlic cloves
Salt
PReparation
Put together the butter, the garlic, a handful of mint leaves and 2 salt pinches in a blender to obtain a creamy mixture. Put the cream into a bowl. Cook the spaghetti and drain them  'al dente'. Put them into the bowl and dress them with the mint cream. Using the kitchen tongs, form small spaghetti nests and place a Delicius Double anchovy fillet on top of each. Add fresh mint leaves on top and serve immediately.