Ingredients for 1 person
Preparation time: 10 minutes
THE DELICIUS PRODUCT
Grilled Mackerel Fillets in Olive Oil 85g. Mackerel fillets are even more tasty as they have been lightly grilled. The same quality fish, healthiness and impeccable processing of our mackerel fillets, with a different taste. The result has conquered even those who considered mackerel too weak in taste. A very successful innovation.
The superior quality of Delicius products does not stop at anchovies. Discover the mackerel fillets and enjoy the taste of healthy and delicate fish. The grilled version is even more of a surprise and will give your recipes an unusual and pleasant turn.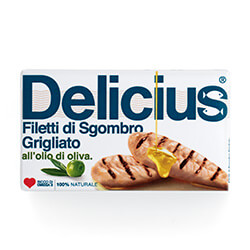 INGREDIENTs for 1 person
1 pack of Delicius grilled mackerel fillets
1 whole wheat ciabatta sandwich
Green salad
30gr of mayonnaise
10gr of capers
Salt
Extra virgin olive oil
PREPARATION
Mix the grilled mackerel fillets with the mayonnaise in a bowl, until it has reached a
consistent and smooth mixture.
Desalt the capers in water, then chop them finely and add them to the mixture.
Cut the whole wheat ciabatta bread in half, place the salad leaves on the top of the bottom
half and season with oil and salt.
Adjust the mackerel and mayonnaise mixture on top of the salad and add the top of the sandwich.
Serve and enjoy!