Ingredients for 2 people
Preparation time: 30 minutes
THE DELICIUS PRODUCT
Rolled Anchovy Fillets with Pantelleria Capers in Olive Oil DOUBLE 90g Take two Delicius anchovy fillets, the ones that are really the best. Roll them up together and you will discover DOUBLE, the new anchovy twice the size, and twice the taste.The centre of the rolled fillets is then enriched by a fantastic caper; only the best ones from Pantelleria are used in our products. Discover the exquisite balance of sweet and salty that will spread the scent of the ocean in your mouth.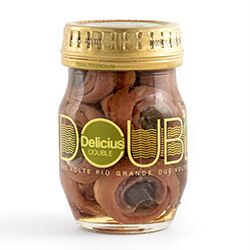 INGREDIENTs FOR PEOPLE
Delicius double anchovies rolled with capers
80g of Carnaroli rice (per person)
Lemon, Lime, Orange, Tangerin
Garlic
Capers
Vegetable broth
Extra virgin olive oil
Parmigiano Cheese
PREPARATION
Desalt the capers, dry them thoroughly and place them on a baking tray to dry in the oven for about 1 hour at 80 degrees; Once dried, chop them thinly with a knife and pass them with a sieve, to obtain a fine powder.
Start the risotto preparation: Start a saute' in a pan with oil, a garlic clove and the Delicius anchovies with capers. Remove the garlic and toast the rice for 2-3 minutes in the pan until it absorbs the oil, then soak it with the vegetable broth and continue cooking. When the risotto is cooked, grate the citrus fruits on top;Cream the risotto with the citrus skins and added oil and parmesan cheese.
Garnish the final plate with the caper powder and a rolled anchovy with caper on top.