THE PRODUCT
The excellent quality of Delicius mackerel fillets and all their precious content of nutrients, combined with our famous box: practical and secure, symbol of our brand over years.
Our mackerel fillets are the key ingredient to a perfect salad. In the version with sunflower oil, they are even more convenient for fresh summer recipes.
The superior quality of Delicius products does not stop at anchovies. Discover the mackerel fillets and enjoy the taste of healthy and delicate fish.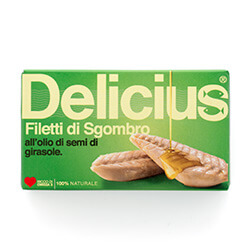 RECIPES