THE PRODUCT
A bigger jar, if you just can't get enough of our anchovies in sunflower oil. A bigger format to give you all the anchovies you need to prepare different and tasty recipes in your kitchen.
The excellence of Delicius anchovies, processed according to our traditional Italian methods, also in this version with sunflower oil. Only the highest quality fish is selected, then skilfully salted and let to rest for months and months in barrels, until it is perfect. It is then transformed into our fillets with a soft and determined taste.
Look for the green product label and let yet another Delicius product surprise you with its taste.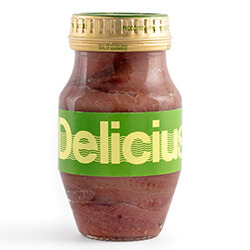 RECIPES