Ingredients for 4 people
Preparation Time: 20 minutes
THE DELICIUS PRODUCT
Mackerel Fillets in Olive Oil 125g. The excellent qualities of Delicius mackerel fillets and all their content of precious nutrients, safely and easily packed in our signature box that has become one of the brand's symbols over time. The must-have ingredient for a perfect salad.
The superior quality of Delicius products does not stop at anchovies. Discover the mackerel fillets and enjoy the taste of healthy and delicate fish.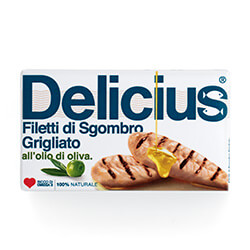 INGREDIENTs for 4 people
1 small yellow pepper
1 eggplant
A couple sprigs of marjoram
1 garlic clove
1 pack of Delicius mackerel fillets in olive oil
Extra virgin olive oil
Salt

PREPARATION
Cut the eggplant in small dices and salt it lightly. Cut the pepper in small dices, make it sauté in a pan with the garlic clove and 2-3 spoons of oil, add salt.
After 5 minutes add the eggplant, a small glass of water, then cover and cook the vegetables for 10 minutes, until they are cooked but still compact and solid. Then remove the garlic clove, add pepper according to preference and season with the marjoram.
Adjust 4 rectangular kitchen moulds with no bottom, each on a plate, then fill them with the vegetable sautéd tartare and press it down with the back of a spoon. Then remove the moulds and adjust a mackerel fillet on top of each vegetable tartare, then serve.