Ingredients for 1 person
Preparation time: 20 minutes
THE DELICIUS PRODUCT
Grilled Mackerel Fillets in Olive Oil 85g
Mackerel fillets are even more tasty as they have been lightly grilled. The same quality fish, healthiness and impeccable processing of our mackerel fillets, with a different taste. The result has conquered even those who considered mackerel too weak in taste. A very successful innovation.
The superior quality of Delicius products does not stop at anchovies. Discover the mackerel fillets and enjoy the taste of healthy and delicate fish. The grilled version is even more of a surprise and will give your recipes an unusual and pleasant turn.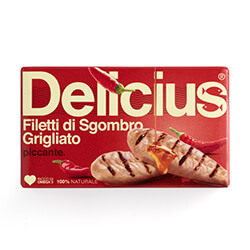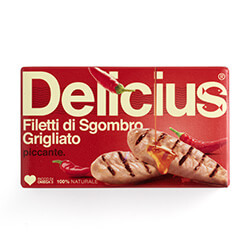 INGREDIENTS FOR 4 PEOPLE
Grilled mackerel fillets in olive oil
1 red beet
1 big carrot
1 piece of head cabbage
1 tablespoon of low fat yoghurt
1 tablespoon of chopped capers
A couple whole capers
Mayonnaise
Minced parsley
Lemon juice
Pepper
Chives
PREPARATION
Cut the vegetables (head cabbage, red beet, carrot) in julienne.
Mix 2 spoons of mayonnaise with 1 spoon of low fat yoghurt, then add the chopped capers, half a spoon of minced parsley, lemon juice and pepper. Season the vegetables with a little salt and a couple drops of vinegar. Then add the yoghurt-mayonnaise dressing to the vegetables. Mix the vegetables and put some on each plate for serving.
Drain well the Delicius grilled mackerel fillets and place each one on top of the vegetable salad. Garnish with chives and a couple whole capers.